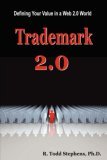 R.Todd Stephens is a very interesting man. I've met him and have sat through an incredibly interesting tutorial he gave back in 2006 in London on Enterprise Metadata. What interested me most about his presentation was how he was referring to tools and technologies that I was tinkering with to try and improve communication of key concepts and improve efficiencies in information management in my day job. Indeed, some of the tools were things I was playing with outside of work as a hobbyist blogger. It's a pity I haven't had a chance to implement too much of the vision that he triggered in my mind at that time for improvements in the day job … but who knows what might happen by the end of the year.
His website – www.rtodd.com – has been a regular touch point for me ever since.
He has recently published a book that sets out a recipe for establishing your personal brand (he uses the term trademark for a variety of reasons). Part of his thesis is that the collaborative tools of Web2.0 (the Read/Write Web as it is often called) have altered the rules for creating your personal brand and provide you with opportunities to raise your profile and, importantly, to measure how your profile is doing.
What sets this book apart in my eyes is that Todd adds value in interesting ways. Apart from just presenting bland statements about how 'blogs are good' and conferences are great ways to see new places and meet new people, he presents a set of tools to measure and score how well your 'trademark' is doing. He also sets out a reasoned argument as to why establishing a personal trademark for yourself may well be the career survival tool for the Read/Write Information Age.
He brings together a variety of references and marries them together in support of his argument – and above all he provides examples of how you can 'speak with data' to track how well you are meeting or exceeding your own expectations of what your 'brand' might be. From checking the site stats for your blog to your technorati rankings to having a 'scorecard' of the things you've done to promote your brand, Todd give some keen insights.
The fact that he is a world-class recognised authority on the management of meta-data is evidence of the success of his formula. The book at times reads somewhat autobiographically and it is clear that this is not a book based on a theoretical view of things or an attempt to leap on the airport business bookshelf bandwagon but rather an attempt to share a recipe that has worked.
I'll certainly be taking stock of how I'm doing. This blog is a key part of my personal trademark but after reading Todd's book I think that I might need to balance the scorecard a little bit more. The framework he presents gives me a road map to do this.
Trademark2.0 can be purchased from LULU.com. Just click on this link to be taken to the book's page on Lulu. If you don't want to buy from Lulu, the ISBN for the book is 978-0-6151-5688-0 and your local bookstore should be able to order it for you. Better yet you can buy Trademark 2.0: Defining Your Value in the Web 2.0 World
from Amazon by clicking on this link.