Last week I shared a cautionary note about companies relying on their under-touched and under-loved Customer databases to help drive their business as we hit the bottom of the recessionary curve. The elevator pitch synopsis… Caveat emptor – the data may not be what you think it is and you risk irritating your customers if they find errors about them in your data.
Which brings me to Vodafone Ireland and the data they hold about me. I initially thought that the poor quality information they have about me existed only in the database being used to drive their "Mission Red" campaign. For those of you who aren't aware, "Mission Red" is Vodafone Ireland's high profile customer intimacy drive wher they are asking customers to vote for their preference of add-on packages. Unfortunately, what I want isn't listed under their options.
What I want is for Vodafone Ireland to undo the unrequested gender reassignment they've subjected me to.

Yes. It does greet me as "Ms Daragh O'Brien". Â Gender wrong. Surname technically wrong (I'm "O Brien", not "O'Brien"). But at least they spelled my firstname correctly. Yes indeed, I feel like a "Valued Customer". Definitely feeling the love.
As I said, I thought it was just the Mission Red datababase that was at fault here, but it turns out that it is actually seems to be common to a number of their databases (or just one broken database). I checked my Vodafone file at home (yes, I file things, in a filing cabinet). and found this letter from May telling me about a new tariff they had put me on.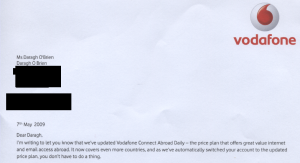 Here I'm referred to not only as Ms Daragh O Brien, but apparently I'm a business as well, called Daragh O Brien.
The fact that Vodafone think I am now (magically) a business (and one that is owned by a woman at that, I suspect) is confirmed by the signature section of that letter, which proudly announces that the letter is from the "Business Roaming Manager".


First off… my Vodafone account is a personal account. At one time in the dim and distant past my number was on a work account in a former employer. But that was over 10 years ago. And my former employer wasn't called "Daragh O Brien". My account does have a mobile broadband service billed on it but that too is a contract I entered into as a consumer, not a business customer.
This smells of a field being a mandatory field at some point in a process, or of some zealous person populating the Business Name field (question… do they incentivise based on number of completed fields or on the basis of the number of business customers signed up?)
Finally, I don't think that that tariff is actually applied to my account because I can't see it listed on my bills. Maybe there is a constistency control in place in the billing systems to prevent people having discounts or services they are not entitled to? This is a common practice in telecoms compliance.
So… Vodafone :
Have given me a sex change and made me a female.
View my account, at least in part, as a Business account.
Given that I am definitely male (I double checked… pregnant wife confirms I'm all man) and my account with Vodafone was established as a consumer not as a business, do I think that there is any truth in Vodafone's statement in their letter of today that I am "one of their most valued customers"?
Frankly no. What I see is a company whose data about me is all over the place to the extent that they are in breach of the Data Protection Act.
How is this a breach of the Data Protection Act? Well, they have a duty to ensure that information about me is kept accurate and up to date. Â This information is not accurate.
Of course, the problems Vodafone have with the correct gender assignment of the name Daragh go back a lot further than these two letters. A quick check in my blog archives turned up this one from Christmas 2007.
Conclusion
Last week I wrote about the information quality risk inherent in using your "Golden Database" if you haven't paid much attention to caring for or feeding that information asset.
The correspondence I've received from Vodafone gives a very clear example of how publishing your ignorance of your customer for them to see as a result of blindly ploughing through your database without any thought to the quality there-of can piss off your customer and damage your relationship with them and can ultimately put you in the postition of being an outright liar (it is painfully clear to me that Vodafone don't value me as a customer).
The bottom line is that when I do decide it is time to get a mobile phone account for my fledgling business, Vodafone will need to compete now on more than just price because they haven't cared for my data so they can't possibly care about me.
If anyone from Vodafone would like to comment on this article and shed light on why they've changed my sex (amongst other things), I encourage the right to reply.